The best browser for video, audio download
Download any video, audio for free
Fast download feature allows you to download multimedia files such as videos, audio and subtitles with just one click. Downloadable on almost all websites, including YouTube, Tiktok, or Facebook.
Download 8X faster
Cốc Cốc splits the file into multiple segments for simultaneous download, and then reassembles them. Therefore, the download speed increases by 8 times, saving you more download time compared to when you use other browsers.
Choose download quality and format
Download video to your device as you like! Before downloading, you can select your preferred the video resolution or audio quality. For video, Cốc Cốc also especially supports multiple download formats such as video file (.mp4), audio file (.mp3), and subtitle file (if any).
Easy to use built-in feature
Use instantly without installation
Click on Download button on the address bar or media panel to download files right away.
Watch downloaded video immediately
Click on Watch now button on the media panel to enjoy video in a mini view, even when you close the current tab.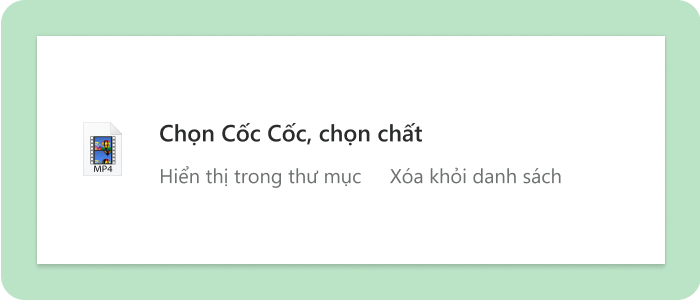 Manage downloaded files
On Downloads page, you can easily find and open a specific file, or even delete that file permanently on the device.
What users say about Cốc Cốc
Cốc Cốc is really great, it helps download movies, blocks all ads when I surf the web.
I'm using iPhone 7 Plus but the app is still running well, it helps me to download many useful videos.
Has tons of killer features like media download, ad block and dark theme which are very useful. Keep up the good work.
I have tried before many apps for video download - IDM in all shapes and colors, but none of them can download as well as Cốc Cốc.
I became familiar with Cốc Cốc because of video download feature. Even on computer or mobile, Cốc Cốc can download it all.
Don't know if anyone is the same, I first used Cốc Cốc because of the video download feature. It's very convenient, and now it has become my go-to web browser.
Frequently asked questions
Can't find what you're looking for? Please visit our
Support center
to find instructions or chat with our staff.